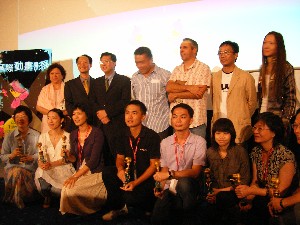 The 4th Taiwan International Animation Festival organized by Chinese Taipei Film Archive (CTFA) and supported by Government Information Office (GIO) took place from Sept. 1 to 10 in Warner Village Cinemas, Taipei. This year's TIAF the most special is "Taiwan Competition" aims at Taiwanese animation. There are 279 entries and the jurors have selected34 workers competed for 8 prizes.
CTFA, which hosts TIAF, held awarding ceremony on the closing day, especially for "Taiwan Competition Final" held for the first time. Many guests found their time to attend the ceremony, in spite of heavy rain. Except for C. Jay Shih, Chairman of Department of Multimedia and Animation Arts, National Taiwan University of Arts (NTUA) and also a jury member, Liu Bo-yuan, CEO of Gamania Digital Entertainment Co., Ltd., Gary Baseman, well-known American animator and iconographer, Ben Hong, Design Director of Proton Electrical Industrial Company, Kristy ChaRay Chu, Festival Director, Cheng Wen-tsang, Minister of Government Information Office (GIO) and Peggy Chou, Director of Department of Motion Pictures, GIO, also attended the event.
"TIAF allows the public to see lots of diverse and superior animation films. When it comes to marketing and creativity, we are in a weaker situation compared with other countries. However, from the works this year, we can see the gradual development of Taiwanese animation. Moreover, by means of competition, we hope it can promote competitiveness and push forward Taiwan's animation industry." addressed by Cheng Wen-tsang in the ceremony. In the end, Cheng praised its success and NT$2 millions box office breakthrough, which shows the audience getting more and more, and Taiwan's animation industry is rising and flourishing.
"Taiwan International Animation Festival" is the only Taiwanese film festival that focuses on animation. Works combined different cultures, races and refined art from the world were selected in the festival, and through it Taiwan has more chances exchanging new ideas with other countries. At the moment, many film festivals had invited these final works to take part in their festival, among which are China Changzhou International Animation Art Festival (CICDAF) and Cannes Film Festival's "Semaine internationale de la critique" Through the recommendation of TIAF, Taiwan's animation works can possibly be seen in other film festivals.
Pan Hsin-ping's "Small&Deep, Love Stories" was awarded the "TIAF Grand Prize", with cash of NT$300,000. There are 8 prizes awarded in "Taiwan Competition" section, and total premium is NT$1 million concluding many gifts. Lin Hui-ru's "The Sky Bar" among which specially embraces 2 prizes: "Technical Arts Gold Prize" and "Proton Creative Gold Prize".
"Taiwan Competition" Final Judges:
Prize

Title

Director

TIAF Grand Prize/

NT$300,000

Small&Deep, Love Stories

Pan Hsin-ping

Special Jury Award/

NT$200,000

Hallucii

Wang Gu-shen

Taiwan Animation Gold Prize/

NT$100,000

After the Rainy Day

Tsai Shiu-Chung

Technical Arts Gold Prize/

NT$100,000

The Sky Bar

Lin Hui-ru

Creative Graphics Gold Prize/

NT$100,000

The Drawer of Memory

Chi Po-chou

Original Humor Gold Prize/

NT$100,000

Sexy Hotline

Chen Yue-jia

Student Animator's Gold Prize/

NT$100,000

In Search of the Puppeteer

Chang Chih-ming

Proton Creative Gold Prize/

Proton 42'' LCD TV

The Sky Bar

Lin Hui-ru


















(For more information, please go to http://www.ctfa.org.tw/tiaf)
Although TIAF is closed in Taipei, animation fans in central and southern Taiwan still have the chance to see the works. 2006 TIAF will barnstorm in Wonderful Cinemas, Taichung from Sept. 15 to 21 and in Kaohsiung Municipal Film Archive from Sept. 17 to 30. Anyone who is interested in it, do not lose the chance to see it. If you miss it this time, you have to wait for a whole year!
Updated:2009/02/17