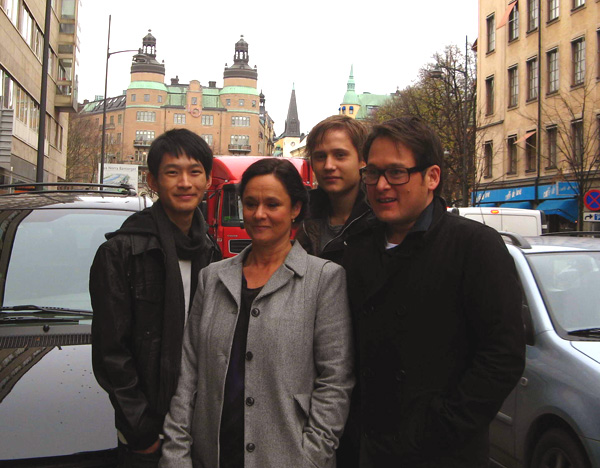 Taiwan and Sweden are co-financing and co-producing the picture "Neon Dreams." Pernilla August, the winner of the Best Actress Award at the Cannes Film Festival in 1992 and Huang He, the recipient of the Best Actor Award at the Golden Bell Awards in 2007 will co-star in the film. The film will blend the warm feeling of Taiwan with the quality and atmosphere of European movies. The new edge director Liu Han-wei, who was born and raised in Taiwan but who now lives in Norway, will direct the film, which describes a romance born from the Internet. The script also explores the pursuit of love and the affection between family members.

Moviegoers throughout the world certainly have not forgotten the character Shmi Skywalker from Star Wars: Episode I – The Phantom Menace and Episode II – Attack of the Clones played by Swedish national treasure and Cannes Film Festival Best Actress Award recipient Pernilla August. She acted in one of the main roles in Fanny and Alexander, the film by iconic director Ingmar Bergman that won four Oscar awards. August won at the Cannes Film Festival for her starring role in Best Intentions.

Golden Bell Award winner Huang He came to the attention of director Liu due to the unique quality about him. In the upcoming film, he portrays the key character that helps the leading lady, Pernilla August, and her child rediscover the meaning of family. Language and cultural barriers in "Neon Dreams" generate humor and may bring to mind some similarities from the film Lost in Translation. This film, which movie buffs will certainly eagerly await, offers a style of film that has yet to be seen in a Taiwan movie.

The flying saucer apartment buildings in Sanchih were originally slated to be torn down in December. However, changes to the plans were made before the demolition even began. "Neon Dreams" director Liu Han-wei came to Taiwan from Sweden in the middle of July to seek out locations to shoot the film. At the time, the flying saucer buildings came to his attention. He liked the unique style of the buildings and the scenery of the northern coast where they are located. Ocean Deep Films contacted the Taipei County Government to negotiate a delay in the dismantling of the buildings, and government officials agreed. Officials hope that the structures in Sanchih will become immortalized in "Neon Dreams" and that the buildings and the landscape featuring mountains and coastline will become known worldwide as a result.

Shooting of "Neon Dreams" is slated to begin in the flying saucer buildings in Sanchih on December 20, and the film is expected to ready to be screened at next year's Cannes Film Festival. Taiwan audiences can look forward to seeing "Neon Dreams" in the second half of 2009.

Updated:2009/02/17