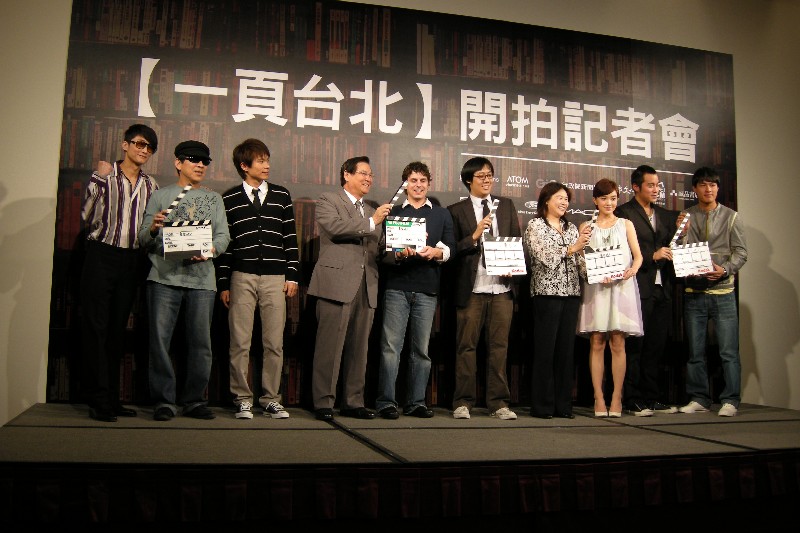 A press conference was held at the Eslite Bookstore complex in the Xinyi District on March 17 to mark the beginning of shooting of "First Page Taipei." The cast of the film was announced at the press conference, finally satisfying the curiosity of the public as to who would star in the film.


Internationally renowned German director Wim Wenders is the executive producer of this film, which is being directed by Arvin Chen, the new-edge director who won the Silver Bear Award at the Berlin Film Festival for his short film "Mei." "First Page Taipei" will feature Taipei as the backdrop to an urban love story. Those involved in the production have spent the last two years in preparation work ahead of filming. Some of Taiwan's most famous idol stars and best actors have been invited to participate in the film, including Amber Kuo, a newcomer to the scene who has been heavily promoted by Warner Music. While Kuo acted in the idol television series Woody Sambo, this will mark her first appearance on the big screen. Kuo will portray an employee at the Eslite Bookstore who has a special quality about her. She ends up spending an adventuresome night with a broken-hearted boy played by Yao Chun-yao. The boy is stuck in Taipei after his girlfriend decides to go abroad. Yao spends time shuttling between Taipei's wide boulevards and narrow alleyways, and he eventually becomes involved in a dispute involving a neighborhood gang and the police. The handsome Joseph Chang, who will appear in the film "Step by Step" that will hit the screens this month, Yue-Lin Ko, who demonstrated her acting acumen in "Lust, Caution," and one of the most senior actors in the Taiwan film industry, Jack Kao, all appeared at today's press conference. Tony Yang, who will have a cameo role in the film, also showed up to express his support for "First Page Taipei." The Government Information Office's Department of Motion Picture Affairs Director Chen Chih-kuan and Taipei City Government Department of Cultural Affairs Commission Lee Yong-Ping attended the press conference to offer their best wishes for the film and express their hopes that this would mark a new page in Taiwan film.

The film starts off with the story of Kai, who has just graduated from university. His girlfriend unexpectedly tells him that she is going to leave Taipei and will head to Paris where she will study music. Heartbroken, Kai ends up spending much of his time holed up in a bookstore where he is trying to learn French by studying various textbooks. He fantasizes about the day that he will be able to fly off to Paris. Kai is stuck in this stupor and even a family friend who frequently has noodles at Kai's home can't stand watching this anymore. The family friend, Brother Bao, is a neighborhood gangster and he has decided to give Kai a plane ticket so that he can fly to France and realize his dream. However, there is one condition – Kai must first complete a mission for Brother Bao.

This marks the beginning of the most unforgettable slice of time in Kai's life.


While he is en route to delivering the package as instructed by Brother Bao, a series of misfortunes begins to unfold. One of Brother Bao's underlings has betrayed him and wants to steel the "goods" for himself and then go out on his own. Due to a variety of mishaps, Kai's good friend ends up being kidnapped. A handsome but melancholy police detective appears on the verge of cracking the case that he has long been investigating. However, the detective's girlfriend unexpectedly appears, causing him to become flustered.

Just as Kai's world appears to be on the edge of collapse and his dreams dashed, he bumps into Susie, the girl who works at the bookstore where he spends a lot of his time and with whom he frequently chats late at night. The two of them set out on a thrilling journey throughout the city, taking them along Taipei's boulevards and into narrow alleys, through night markets and parks, and into subway stations and karaoke singing parlors. On the one hand, they are trying to evade the police, while at the same time they are looking to find the whereabouts of Kai's friend.


The director said that if you want to find out how it all ends, you are going to have to go to the cinema next year to see for yourself.

More information about "First Page Taipei" is available at the official blog: http://www.atomcinema.com

Updated:2009/03/27