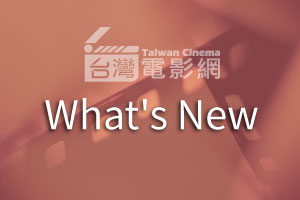 (Sept 24, 2019)—The Taipei Cultural Center in New York is thrilled to announce its collaboration with CUNY TV's City Cinematheque to co-present a new five-part film series, "An Island of Stories: Recent Films from Taiwan," set to debut on Saturday, October 5, and Sunday, October 6, 2019, both at 9 p.m. EST.
▲Interview with Director Chung Mong-hong
Hosted by Jerry W. Carlson, professor of Cinema Studies at The City College and Graduate Center CUNY, this series features interviews with five Taiwanese filmmakers who are representative of post-Taiwanese New Wave cinema in the 1980s. They are Wei Te-sheng, Chung Mong-hong, Chang Tso-chi, Midi Z, and Yang Ya-che. The interviews will be accompanied by these directors' recent and well-known works that show how they adopt bold and fresh perspectives on film aesthetics and genre concepts to broaden Taiwan's cinematic landscape.
▲Interview with Director Wei Te-sheng
"We are proud to share this milestone series with the U.S. audience for the first time," said Su-pao Chang, director of the Taipei Cultural Center in New York. "Taiwan is an island of stories owing to its complex history and cultural diversity. Through a selection of captivating Taiwanese cinematic works, this series aims to not only showcase veteran and rising Taiwanese filmmakers, but also deepen the general public's understanding about Taiwanese contemporary cinema, which is very much influenced by the cultural and historical exploration prominent in the works of Hou Hsiao-hsien, Edward Yang, and Tsai Ming-liang—iconic filmmakers of the Taiwanese New Wave movement. We hope Taiwan cinema will continue to offer a unique perspective for the contemporary world cinema."
▲Interview with Director Midi Z
"The five film selection 'An Island of Stories: Recent films from Taiwan' seeks to…open the door to a treasure trove of films thrilling in their diversity and pure cinematic craft," said Jerry Carlson, producer and host of City Cinematheque. "No film, of course, can tell the whole truth about being Taiwanese. But taken together, the five movies project a beautiful prism, each color telling its own part of the story in its own light."
▲Interview with Director Chang Tso-chi
Featured titles are Wei Te-sheng's CAPE NO.7, the highest grossing Taiwanese domestic film of all time; Chang Tso-chi's prizewinner Thanatos, Drunk; Chung Mong-hong's chilling psychological thriller Soul; Midi Z's tragic love story The Road to Mandalay; and Yang Ya-che's feminized crime drama The Bold, the Corrupt, and the Beautiful. For more info, visit https://tv.cuny.edu/show/citycinematheque/
About CUNY TV and City Cinematheque:
"An Island of Stories: Recent Films from Taiwan" is a production of CUNY TV, in association with the Taipei Cultural Center in New York, for production in Taipei. CUNY TV's City Cinematheque, which has run for 29 years, is presented every weekend with the same film on Saturday and Sunday nights at 9 p.m. and repeated the following Friday night, early Saturday morning at midnight.
CUNY TV airs its programs in the New York metropolitan area (including areas of Long Island, Westchester, NJ, and CT within 35 miles of Times Square) on digital Ch. 25.3, and cablecast in the five boroughs of New York City on Ch. 75 (Spectrum and Optimum), Ch. 77 (RCN) and Ch. 30 (Verizon FiOS).
Film Description and Air Times
Cape No.7 directed by Te-sheng Wei (2008)
Saturday 10/5 and Sunday 10/6 at 9 pm; Saturday 10/12 at 12 am
A box office sensation in Taiwan beating the record set by Titanic, the film weaves together a romantic comedy about putting on a rock-'n-roll show with a serious melodrama about an intercultural love affair set during the Japanese colonial occupation of the island.
Soul directed by Mong-hong Chung (2013)
Saturday 10/12 and Sunday 10/13 at 9 pm; Saturday 10/19 at 12 am
A young sushi chef collapses. When he regains consciousness he claims to be someone else. Is this a problem of psychology or demonology? The film twists and turns in ways that would please Bunuel, Hitchcock, and Lynch.
Thanatos, Drunk directed by Tso-chi Chang (2015)
Saturday 10/19 and Sunday 10/20 at 9 pm; Saturday 10/26 at 12 am
All families experience crises. But some families are a crisis without end. Brothers Rat and Shanghe operate at the margins of Taiwanese society. They are the left behind, the ones who need to reinvent their lives on a daily basis to survive.
The Road to Mandalay directed by Midi Z (2016)
Saturday 10/26 and Sunday 10/27 at 9 pm; Saturday 11/2 at 12 am
Two young people meet as they flee Burma (Myanmar) to seek a better life in Taiwan. But they get waylaid in Thailand as they struggle to find jobs that will finance their journey into a fully modern Taiwan.
The Bold, the Corrupt, and the Beautiful directed by Ya-che Yang (2017)
Saturday 11/2 and Sunday 11/3 at 9 pm; Saturday 11/9 at 12 am
Madame Tang uses any means necessary to improve the lot of her all female family. Each step forward in their fortunes is a step back in their humanity. There is more than one way to murder someone.
Updated:2019/10/01